Trine 5: A Clockwork Conspiracy | Accolades Trailer
Celebrate our heroes with us in the new accolades trailer for Trine 5!
Once again Pontius, Zoya, and Amadeus were successful, finding a way to not only save the kingdom but also win the hearts of players and critics alike. With so many positive reactions, we are so proud of what Frozenbyte have created!
With media outlets like IGN, Videochums, and Screen Rant – just to name a few – sharing positive words about Trine 5: A Clockwork Conspiracy, we are delighted to share those with you as well! Not just media but the whole community have enjoyed the game, mirrored by the ratings on Metacritic (ranking from 79-81) and Steam (an impressive 94% positive) alike.
Here are some of our favorite quotes to celebrate Trine and its heroes:
"One of the best co-op puzzle-platformer series out there" – IGN, 8/10
"Certainly game of the year material" – Videochums, 9.2/10
"A great choice for some fun with friends" – GamingBolt, 8/10
"The most engaging and accessibly entry yet" – Shacknews, 9/10
"Sure to leave players with a smile on their face" – Screen Rant, 4/5
"Compelling puzzles, chaotic combat, and perfect presentation" – Push Square, 8/10
"Easily the best of the Trine series in all aspects" – Xbox Tavern, 10/10
Watch the accolades trailer here: https://youtu.be/usMO8hmMivY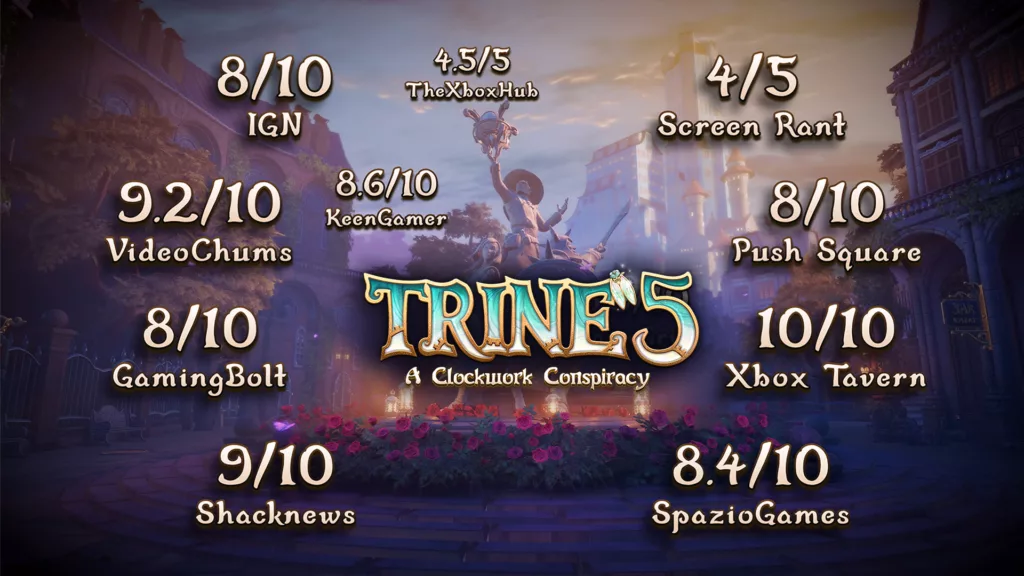 Dive into the world of Trine!
Wield magic as Amadeus, the master of arcane arts, swing your sword as Pontius, the knight in shining armor (who loves pie!), or play as the cunning thief Zoya – the choice is yours! An action-packed journey awaits our heroes of Trine. Battle monsters and solve puzzles to save your friends and family in time!
Trine 5 is available for PC, PlayStation®4, PlayStation®5, Xbox One™, Xbox Series S/X™, and Nintendo Switch™ at an SRP of € 29.99 / $ 29.99 / £ 24.99.
Get the game now: https://trine5.thqnordic.com